For a Celtics team that two years ago started the season with a team that boasted Kyrie Irving (fresh off a Finals appearance), Gordon Hayward (coming off his first All-Star appearance) and Al Horford (the leader of a team that went to the Eastern Conference Finals), this is by far the darkest timeline.
Now two of those players appear to be out the door according to reports and the other is set to be paid 30 million dollars without any sign of being the level of player he was when he signed that deal before shattering his ankle five minutes into the 2017-18 season.
The focus now shifts for Boston from trying to contend for a championship to grooming their young stars as a unit to carry forward.
The decision to not include Jayson Tatum in a deal for Anthony Davis is as much of an indication that the C's are looking towards the future, entrusting a core centred around Tatum, Jaylen Brown and Marcus Smart to prove successful in the end.
After what can be regarded as a disappointing draft day for the Cs, Boston will have 27.8 million in cap space (relying on the reported information that Kyrie and Horford will both opt out and leave in free agency).
This means the Celts could actually get someone of substance to add to their young core and possibly make a rebuild quite fast.
One name in particular that could accelerate they're competitiveness…
Top Target: D'Angelo Russell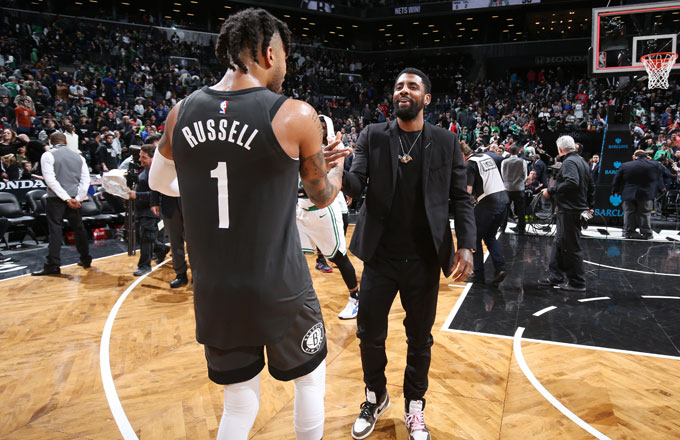 Ironically, the best fit for the C's right now would be the exact player that is being displaced by his teams addition of Kyrie Irving.
D'Angelo, by all accounts, is out of Brooklyn. It seems that the Nets are unwilling to experiment with a pairing of Russell and Irving in the back-court (the defence gods would frown upon such a world). As such, the Nets are more likely to spend that money elsewhere, considering that D'Angelo will come at a high price.
Enter the Celtics, who could bet big on Russell with a four year max contract and provide him with the kind of situation he wouldn't be able to find elsewhere in the league – a team with a good coach, a host of similarly aged young talent and the chance to remain competitive for years to come.
Could you argue that Russell presents some of the same stylistic challenges as Kyrie? Sure, but you would be alleviated the toxic chemistry issues associated with the Brooklyn bound NBA Champion.
Is he exactly a perfect fit with Tatum and Brown? No, he would take some looks away from the developing wing tandem and do little to resolve the C's issues in a glaringly flawed big man rotation that (after the Baynes trade) only features Robert Williams, Guerschon Yabusele and Semi Ojeleye.
But at this point, the C's have nothing to lose and this is the best risk to take if you're trying to field a team that can compete.
Secondary Options: Ricky Rubio, Rajon Rondo and Richaun Holmes
One of these is not like the others, so we can deal with Holmes last.
If the C's don't get D'Angelo or trade for another player of consequence such as the rumoured Clint Capela (which wouldn't be the best use of assets), then this becomes all about two things: making the young guys better (i.e. making them the focus on offence to help them develop) and acquiring assets (I can't believe I'm suggesting the Celtics tank right now).
With that in mind, Rubio and Rondo would be welcome additions to the back-court, being extremely capable defenders at the point and extremely willing passers on offence. Both can organise the C's on the offensive end of the floor and make sure Tatum and Brown are in the best poisition to succeed.
Plus, can you imagine being the back-court that has to play the pairing of Rubio and Smart? You wouldn't be going out the night before and you'd think about how crap that is going to be for a week in advance. A Rondo-Smart pairing might make you also come back from the club a few hours earlier than you planned.
Are these particularly sexy choices? No, but if you're looking to develop Tatum and Brown, these are the kind of guys that help you go in that direction.
Now to explain my Richaun Holmes part of this. First of all, here's what he looks like because I know you don't know.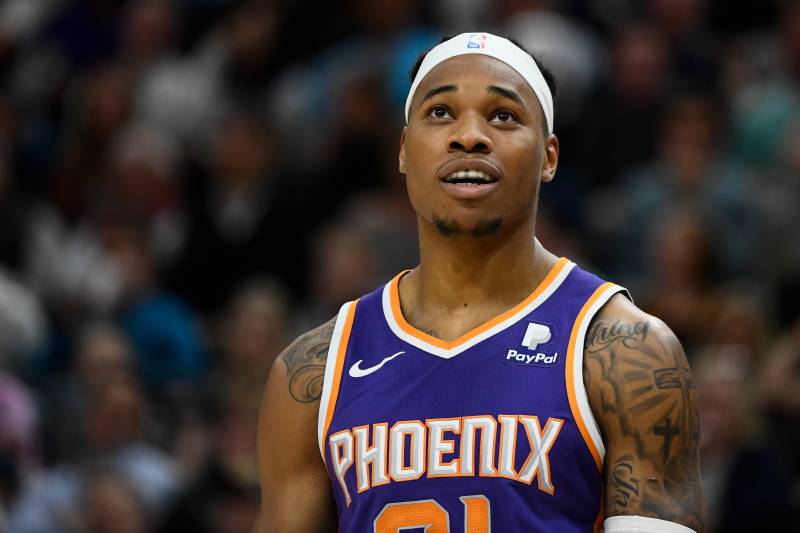 Ah hello there Mr Holmes.
Holmes hasn't had a fair go so far in his career, averaging 7 points and 4 rebounds on 17 minutes a game for his career. He spent three years on the Sixers playing behind Nerlens Noel, Jalil Okafor and Joel Embiid before moving on to Phoenix where he was behind DeAndre Ayton on the Centre rotation.
Holmes has always been 10 or lower on the roster for all the teams he's been on by virtue of playing on teams with multiple big men.
This is exactly why Boston could make a small gamble on him.
To be clear, there is zero guarantee of success here, but providing Holmes the kind of opportunity he could get in Boston may unlock his full ability. Particularly if Williams continues to struggle with the demands of being an NBA player.
His ability to crash the boards and bang with big bodies down low on D and set screens and finish on O would be great for opening up opportunities for Tatum and Brown.
This is a really undervalued asset that many teams are overlooking and the Celtics should try and capitalise here.